Top 5 Wednesday: Character's Fitness Routines You Want
This week's Top 5 is a little different… well, really different lol. It might have been a little weird if we were just choosing book character's by the world's standard for fitness, BUT this is nothing like that and it makes me love it that much more (no knocking on reg fitness, this is just such a fun twist on the norm).
So following the guidelines (which are awesome) by the Top 5 group ➡️ ➡️ ➡️ — This can be interpreted a bunch of different ways! Fitness comes in many different packages. This can be about characters who are super fast, strong, agile, good at dancing, good at climbing, athletes, or foodies! Whatever it means to you. This is inspired by those routines you see in magazines for actors, but with more of an open mind and less body shaming 🙂
I just had to start off with Hatake Kakashi from Naruto. He's one of the coolest character's out there and definitely one of my favorites. Aside from being a highly skilled ninja (top of his class), he's also able to use his chakra to perform hand seals (ninjutsu, genjutsu, and other secret arts other than taijutsu) at super speeds. I mean who wouldn't want to have all that on their side, fitness to the max. There is so much more to him, but it's a little endless so we'll move on to the next lol.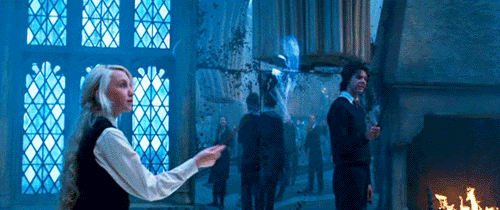 Another one that was definitely going to be on this list is Luna Lovegood from the Harry Potter series. It's her ability to be so carefree an believe wholeheartedly in the impossible that makes her that much better at yielding her wand. She also has such a loving persona that is always growing the more she believes and sees things more openly than others. Definitely has skills like no other, even when it looks so easy, she's def had to work hard to be where she's at.
Tris from Divergent, is another one of those characters' I wish I could be more like. She has the ability to fit into every faction and be good at almost anything she sets her mind to, mentally and physically. She is one of the strongest female characters out there. If that wasn't enough, she has Four, enough said lol.
Um, yes please! What it means to be a Time Lord and be able to still do everything that needs to be done, takes a lot time, effort and passion. The doctors have all that plus more…the more part being his TARDIS, companions, and that awesome sonic screwdriver! If that isn't enough of a workout having to keep up with all of that and endlessly navigating throughout the universe, how about the fact that he's able to regenerate… new face, new personality, but all the genius still intact.
Jessica Jones is my last pick for this one, as she is one of the coolest superheroes out there. She's been through a lot and is still going strong. Not only is she that way physically, she can also hold her own against the worst of the worst with inner strength that keeps her mental state from being completely lost. Even more than that, she's got a knack for finding people and that takes tons of skill, which would be a great one to have.
If you enjoyed this Top 5, don't hesitate to check out the upcoming topics that are sure to be just as much fun and interesting as this one was. I've linked the main group page at the top of this post in the guidelines. If you decide to start this up as well or have already been sharing your thoughts on them, let me know as I would love to read them. Happy reading!