The Moth Presents All These Wonders: True Stories about Facing the Unknown by Catherine Burns & Neil Gaiman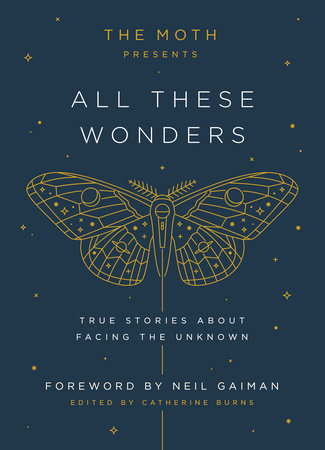 The Moth Presents All These Wonders: True Stories about Facing the Unknown
Foreword and Edited by: Neil Gaiman & Catherine Burns
Genre: Nonfiction
Format: Hardcover
Publisher: Crown Archetype
Release Date: March 21, 2017
Pages: 352
Publisher Website|Book Depository|Goodreads
Goodreads Synopsis:   From storytelling phenomenon The Moth, 45 unforgettable true stories about risk, courage, and facing the unknown, drawn from the best ever told on their stages 
Carefully selected by the creative minds at The Moth, and adapted to the page to preserve the raw energy of live storytelling, All These Wonders features voices both familiar and new. Alongside Louis C.K., Tig Notaro, John Turturro, and Meg Wolitzer, readers will encounter: an astronomer gazing at the surface of Pluto for the first time, an Afghan refugee learning how much her father sacrificed to save their family, a hip-hop star coming to terms with being a one-hit wonder, a young female spy risking everything as part of Churchill s secret army during World War II, and more. High-school student and neuro-scientist alike, the storytellers share their ventures into uncharted territory and how their lives were changed indelibly by what they discovered there. With passion, and humor, they encourage us all to be more open, vulnerable, and alive.
Jen's Rating: 🌟🌟🌟🌟🌟
REVIEW: "The Moth teaches us not to judge by appearances. It teaches us to listen. It reminds us to empathize. And now, with these wonderful stories, it teaches us to read." – Neil Gaiman
This book does just that. I had never heard of The Moth… where have I been? But, glad I was able to read this and learn about it. It is captivating, and honest. Joyful and painful through every page read. This is one I will keep on my shelves and gladly share with friends and family.
Even though the events in which these stories were told have passed, they have not been forgotten or left in those rooms. They are in these pages and become a part of us because these stories are what we are all about. The trials we go through in life, the negativity that plague us, the joyful moments we make and carry with us for all of our existence. They all fill this well documented book.
Many journeys are packed into this beautiful compendium. Including a story about moving past preconceived notions that discovering the great unknown is located to the small things around or places nearby. Instead looking passed and believing we are capable of living beyond that and not letting fear rule our choices. To the hardships of a child in a concentration camp on his way to take a shower. Having to see the faces of the adults become ashen as they are moved along the line, then filled with joy when they ascertain that it truly is a warm shower. This child not knowing why the others around him had reacted that way and how fortuitous he was to have come out of it alive.
There is much more within these pages. Some stories made me laugh out loud such as Adam Mansbach's writing of a children's book that wasn't truly meant for a child to hear. Other stories that made me shake my head. One in which Cole Kazdin goes to dinner with her boyfriend of three years and is told by him that he cares deeply about her, but doesn't want to marry her. These are only a few stories to look forward to and you won't want to leave this book unfinished.
I took a chance with this book, as I am not prone to reading nonfiction. And I am very glad that I did. I was surprised by this collection and it fills the reader with so many mixed emotions. Which is always something I hope for when reading any book. It has quickly become one of my favorites.
***I received this copy from Penguin Random House/Crown Publishing in exchange for an honest review. All opinions are my own.***