The Last Star by Rick Yancey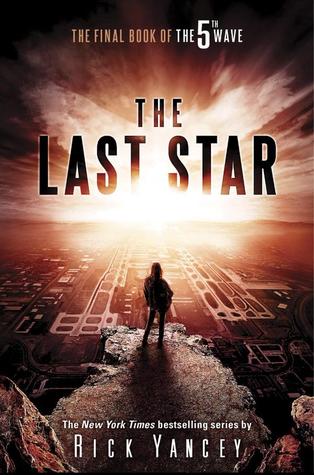 The Last Star (The 5th Wave, #3)
Author: Rick Yancey
Genre: YA, Science Fiction
Format: Hardcover
Publisher: G.P. Putnam's Sons
Publication: May 24, 2016
Pages: 338
Goodreads Synopsis: The enemy is Other. The enemy is us.
They're down here, they're up there, they're nowhere. They want the Earth, they want us to have it. They came to wipe us out, they came to save us.
But beneath these riddles lies one truth: Cassie has been betrayed. So has Ringer. Zombie. Nugget. And all 7.5 billion people who used to live on our planet. Betrayed first by the Others, and now by ourselves.
In these last days, Earth's remaining survivors will need to decide what's more important: saving themselves…or saving what makes us human.
Jen's Rating: 🌟🌟🌟🌟/5
REVIEW: The Last Star is one of those books that I want to love, but find myself just liking.
I very much enjoyed the first and second books in this series. We see Cassie doing her best to keep things together as the world falls apart around her, becoming a strong heroine throughout all the chaos. Her character attributes were not seen as much in The Last Star as they were in the first two books.
The romance story-line of Cassie & Evan also seemed very forced in this read and did little to connect me to them as it had in The 5th Wave or The Infinite Sea (book #2). Instead of focusing on the love story, I chose to see the fast paced, thrilling adventure happening at the forefront of The Last Star.
So why the four star rating?
Zombie (Ben) fighting off "grandma"/silencer whom eats her cats for food. Ringer is enhanced with the 12th system and has a showdown with a priest/silencer. Silencers are in fact human who are programmed to believe they are the enemy. The human race is battling each other.
We see a last attempt at destroying the Mothership before a plan to bomb all cities is placed into affect. In doing this, many are lost, tons more severely injured, and one main character's mind completely wiped of all human emotion.
Almost to the end, our heroine Cassie is back in action! She takes the reigns and makes a last ditch effort to save her brother's humanity. Nugget (Sam) is given a fighting chance at surviving this post-apocalyptic life. Cass then makes it past some crazy scenarios (which don't really make sense with the pace of the series) that leads her to literally become humanity.
Though I felt this book didn't progress as I had hoped, it did make for a very interesting read. An ending I didn't quite expect, and a few I saw coming. Nonetheless, it was a heart wrenching read to the end. The Last Star came through with action packed scenes. Aliens we didn't entirely expect.
The last few chapters kept me on the edge of my seat. Which of our beloved characters would make it out alive? How much more broken could it make us feel?
 Although I wasn't a fan of all of Rick Yancey's storyline choices, he gave us an ending to the series that will remain in our hearts. Cassiopeia, Sam, Ben, Evan they all grew in one way or another. We are given strength in knowing mankind can pull through even while being beaten down profusely and unceasingly pitted against one another.